THE NATION'S LEADING PUMP & PARTS SUPPLIER!
Armstrong ARMFLO E10 Cast Iron Circulator, 0-43 GPM Flow (180200-649)
* Overnight Shipping Available!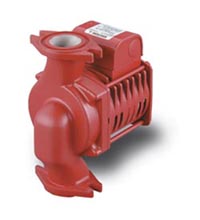 ARMflo E Series high efficiency circulators are perfect for heating or cooling applications such as Hot
Water, Geothermal, Radiant Panel and Snow Melting in Large Residential and Light Commercial installations.
The advanced motor technology and efficient hydraulic design of the E Series E10 and E11 yield an overall efficiency thats up to 41% better than competitive pumps of similar power.
The E Series also uses a compact motor thats 30% smaller than other dry motor circulators.
Designed for extended durability and very quiet operation, the E10 and E11 circulators include the new EnviroSeal mechanical seal, which can be field-repaired in under 5 minutes, as well as permanently lubricated stainless steel bearings.
While the durability of the Armstrong E Series rivals that of traditional 3 piece circulators, the E Series will usually cost the same as, or less than, wet rotors of comparable power.
Key Features:
Domestic Hot Water
Heat Circulating
Product Availability: OVERNIGHT SHIPPING AVAILABLE ! - PUMP EXPRESS delivers ARMSTRONG PUMPS and ARMSTRONG PUMP PARTS 24 hrs a day, 7 days a week, 365 days a year DIRECT FROM THE ARMSTRONG PUMP MANUFACTURER TO YOUR DOOR.
Questions before buying? Ask the expert about this item. Sorry, do not submit repair related questions.

Contact a pump specialist to assist you in finding the right pump or pump part. Our Factory Authorized pump experts can help you find the best solution and the GUARANTEED LOWEST PRICE !
Call 1-800-429-0800
Mon - Fri : 7AM to 4:30 PM
Saturday : 7AM to 1PM Eastern Standard Time

Copyright ® 2013 Pump Express