THE NATION'S LEADING PUMP & PARTS SUPPLIER!
Taco ACCU-FLO Balancing Valves
* Overnight Shipping Available!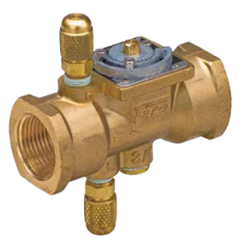 Taco Accu-Flo Balancing Valves raise the bar for accuracy and dependability and as a result you will experience greater balancing accuracy than ever before. Most conventional balancing valves use a variable orifice that delivers poor balancing accuracy, high pressure drops , low regains, and an inability to read low flows. The Taco Accu-Flo uses a modified venturi design, instead. The result is four to five times greater accuracy. The Taco Accu-Flo combines superior design and engineering, precision machining and 100% factory testing to provide you with the highest quality fixed-port venturi balancing valve on the market today.
Key Features:
4-5 Times Greater Accuracy Compared to conventional variable orifice balancing valves
Flow Measurement Independent of Stem and Ball Position
Tamper-Resistant Memory Stop for Accurate Resetting
Calibrated Nameplate for Presetting
All Brass Interior Parts
Questions before buying? Ask the expert about this item. Sorry, do not submit repair related questions.

Contact a pump specialist to assist you in finding the right pump or pump part. Our Factory Authorized pump experts can help you find the best solution and the GUARANTEED LOWEST PRICE !
Call 1-800-429-0800
Mon - Fri : 7AM to 4:30 PM
Saturday : 7AM to 1PM Eastern Standard Time

Copyright ® 2013 Pump Express